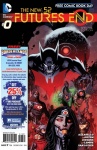 DC Comics co-publisher Dan Didio has announced that the publisher's three weekly comic book initiatives,
Batman Eternal,
the soon to debut
The New 52: Future's End,
and
Earth 2: World's End
, will all end in March of 2015. Didio explained on his
Facebook
page: "
Batman Eterna
l started this April and runs to next March after which it takes a brief hiatus,
Futures End
starts this May and ends the last week of March 2015, and
World's End
starts in October and ends the same week as the others next March, hope that clears things up. Thanks DD."
This announcement will leave fans wondering what exactly constitutes a "brief hiatus," and contemplating the concept that
Batman Eternal
might just get replaced by another weekly Batman title.
The New 52: Future's End
comic will bow with a #0 issue on Free Comic Book Day on May 3, while E
arth 2: World's End
will debut in October (see "
'Earth 2: World's End' Weekly Series
") according to Didio and will be probably end up at 24-26 issues.
The announcement would also appear to indicate that DC is planning some sort of a major event for April of 2015. The fact that the apocalyptic
The New 52: Future's End
, which posits a future in which Brother Eye has "conquered" all of humanity, and the equally apocalyptic sounding
Earth 2: World's End
both terminate in March has led to much fan speculation that something new will be born out of all that destruction just in time to launch in April of 2015.