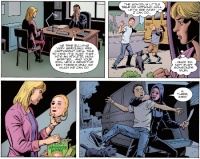 The Guardian
(formerly
The Manchester Guardian
), the third largest newspaper in the U.K. is known for its center/left politics and its extensive coverage of the arts.
The Guardian
has been quick, especially judged by the standards of upper echelon U.S. newspapers, to cover the artistic ferment in comic books, so the paper's latest project should come as no surprise. This weekend the paper is packing its weekend magazine with comics it commissioned from a group of writers including Gillian Flynn, Margaret Atwood, Audrey Niffenegger, AM Holmes, Michael Faber, and Dave Eggers, who were paired with comic book artists including Dave Gibbons (with Flynn), Frazier Irving (with AM Holmes), Roger Langridge (Michael Faber), Eddie Campbell (Audrey Niffenegger), and Christian Ward (Margaret Atwood).
According to
Bleeding Cool
, Dave Gibbons enjoyed the experience of working with Gillian Flynn, whose
Gone Girl
, he had just finished reading: "Although she hadn't written comics before, her dad had introduced her to
EC Comics
and it was very much that flavour which suggested itself. I sent her a couple of scripts as examples of format and she sent back something amazingly polished, as if she'd been writing them forever!"
While
The Guardian
experiment is definitely a "one-off," the continual exposure of the literati to the potential of the comic book medium should eventually lead to increased sales for the many, many "serious," "alt," "independent," "literary" comics, which currently still not get either the respect or sales that they deserve.