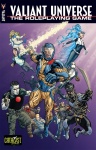 Catalyst Game Labs has shared information on
The Valiant Universe RPG: Core Rulebook,
the first book for the new roleplaying game releasing in August.
Players take the role of one of dozens of characters from the Valiant comics pantheon (X-O Manowar, Bloodshot, Shadowman, Toyo Harada, and more), and immerse themselves in the dark, gritty world where every mission or battle can have deadly consequences.
The game runs on Catalyst's Cue System, which passes narrative between players (no GM) and does not require any preparation. Players rely on cues and tags, provided in their character sheet and in mission briefs, to move the narrative along, as the "Lead Narrator" roll shifts between players.
The book contains "Title Exposes" which include detailed summaries of all the Valiant Universe titles, to help players decide what part of the universe to use as the game setting. It also contains character dossiers on existing heroes and villains, as well as rules to create new characters. The 200-page hardcover will have an MSRP of $39.99.
Valiant Entertainment and Catalyst Game Labs just announced a schedule of free PDFs to help build demand leading up to the August release (see "
'Valiant Universe RPG' Pre-Release Promotion
").