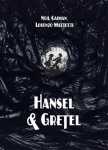 TOON Books, which publishes graphic novels with educator-approved text for readers as young as four, has announced a new imprint, TOON Graphics for Visual Readers, which will focus on expanding TOON's catalog for older readers, ages eight and up. The new offerings will include both graphic novels and books with text and illustrations, and include a Gaiman adaptation in the first batch.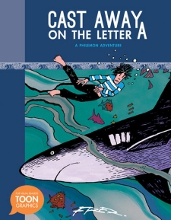 The first three offerings will be an adaptation of
Theseus and the Minotaur
by Yvan Pommaux on August 26;
Cast Away on the Letter A: A Philemon Adventure
, the first in the French graphic novel series by Fred on September 9; and an adaptation of The Brothers Grimm's
Hansel & Gretel
by Neil Gaiman, with art by Lorenzo Mattotti on October 28. All three hardcover editions will have an MSRP of $16.95, with the Gaiman
Hansel & Gretel
also having a deluxe keepsake edition hardcover with a die-cut cover in thick board for $29.95.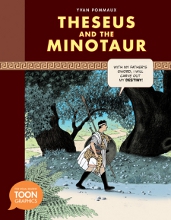 Francoise Mouly and Art Spiegelman's TOON books has been releasing original books (see "
Kids Graphic Novels from Toon
") and adapting classic European works (see "
Toon Books Adapts French Classic
") since they formed the imprint in 2008 (see "
Mouly and Spiegelman Launch Kids GN Line
").