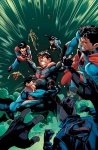 It's time for the annual pruning of DC Universe titles, in which the company ends poor-selling books with their August issues to clear the decks for replacement titles. DC did the same last year (see "
DC Cancels Four
").
DC will be cancelling six DCU books with the August issues, according to the solicitation information released today. The six books, along with their most recent sales numbers for the April issues (see "
Top 300 Comics--April 2014
") follow:
16,358 Birds of Prey
15,382 Superboy
15,337 Trinity of Sin Pandora
14,899 Trinity of Sin The Phantom Stranger
12,285 All-Star Western
9,313 Batwing
These are the poorest sellers among the DC Universe titles, so no surprising casualties.
DC has already announced its big September promotion (see "
DC Releases September 'Future's End' Solicitations
").