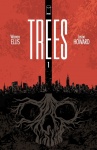 Warren Ellis overprinted
Trees
, his new Image series with Jason Howard, by a hefty 11,500 copies, he told subscribers to his Orbital Operations newsletter according to
Comic Book Resources
. That's on a base order from retailers of around 38,500 copies. Ellis said he isn't expecting a quick sell-out of the overprint, but a slower burn.
"'[T]raditionally' the audience for my work has never been a Wednesday crowd--they have always tended to trickle in over the month of sale," he said in the newsletter. "I mean, it'd be nice to be wrong! But right now, my victory condition is moving most of that 50k over thirty days."
Trees
is the story of intelligent life that arrives on Earth, but doesn't recognize humans as intelligent or alive.