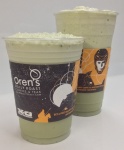 Valiant Entertainment announced a partnership with Manhattan chains Oren's Daily Roast (ten stores) and Midtown Comics (three stores) to cross-promote Valiant comics.
Oren's Daily Roast, which is creating a limited edition
X-O Manowar Green Tea Blast
frozen beverage, will also be providing all beverages in a Valiant-branded java jacket, which will be redeemable at any Midtown Comics location for a free collectible Valiant comic book (while supplies last). Customers who present a Valiant comic book at an Oren's location will also receive 10% off their next Oren's purchase.
The three month promotion will kick off Friday June 13th.
X-O Manowar
is the anchor in Valiant's
Armor Hunters
summer crossover event (see "
Chromium Covers for 'Armor Hunters'
").