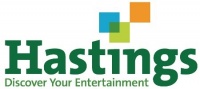 Federal district court judge Mary Lou Robinson has denied the preliminary injunction that would have halted the acquisition of entertainment retailer Hastings by the owner of WizKids parent NECA. Her ruling in the Northern District of Texas means that the Temporary Restraining Order issued earlier this month (see "
Court Order Halts Retailer Acquisition
") has been lifted, and the acquisition can proceed.
The lawsuit that led to the TRO was filed by Hastings shareholders alleging that the acquisition price, which was 57% over the stock price on the day before the deal was announced, was insufficient and that the management and directors had breached their fiduciary duties in approving it.
Judge Robinson cited the lack of irreparable injury if the acquisition goes forward (because the lawsuit could require money damages as a post-merger remedy), the failure of the plaintiffs to show they had a likelihood of success with their suit (because the initial higher stock price was contingent on the retention of key officers, not all of whom are staying), and the possibility that small shareholders could suffer irreparable harm if the injunction were granted.
Hastings will now hold a special shareholder meeting on July 15th at which the acquisition is expected to be approved. It's unclear what NECA/WizKids owner Joel Weinshanker plans for Hastings. Previous retailer acquisitions (of the bones of Movie Gallery/Hollywood Video and Reel.com, see "
WizKids Parent Buys Retailer Assets
") have not been consequential, although that may have had more to do with the weakness of the assets than a lack of vision. Whatever the plan, Weinshanker will be executing it with new management, as the top management of Hastings will depart with payouts after the sale is complete (see "
Hastings CEO, CFO Out
").