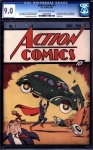 Get ready for a new price record for a single issue of an American comic book. Darren Adams of Pristine Comics is offering a copy of
Action Comics
#1, which was originally published in April of 1938 and contains the first appearance of Superman, that has been graded at 9.0.
In 2011 another copy of
Action Comics
#1 that was previously owned by actor Nicholas Cage (see "
Down in the Valley--Nic Cage's 'Action' #1 Found
") was sold for $2,161,000. That copy was also rated at 9.0, but it had discolored pages, whereas the copy to be auctioned off next month has "white pages," which should make it even more valuable since it is the only known copy of the book that has been graded as such. In an interview on
Ebay
Darren Adams noted that of the more than 200,000 copies of
Action Comics
#1 that were printed, only 34 unrestored copies are known to exist today.
Will the price for this copy of Action #1 reach $3 million when the auction, which lasts from August 12th to August 24th, is complete? Perhaps not, but it is a safe bet that it will set a new record.