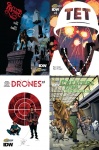 IDW Publishing has partnered with online comics education and creative community Comics Experience, LLC to publish creator-owned titles from new talent.
Bobby Curnow, a Comics Experience alum and current editor for IDW, who supervises the publisher's
Teenage Mutant Ninja Turtles, Godzilla,
and
My Little Pony
titles will oversee the new partnership. The first offerings will include several mini-series, the first of which will launch in January 2015.
Drones
by Chris Lewis and Bruno Oliveira, will follow two Predator drone operators on a trip to a terrorism-themed hotel in Las Vegas, where war and entertainment lines have begun to blur.
Creature Cops: Special Varmint Unit
by Rob Anderson and Fernando Melek follows animal control officers in a near-future city dealing with hybrid animals including gator-snakes and panda dogs.
Gutter Magic
by Rich Douek and Brett Barkley is set in an alternate world where World War II was fought with magic, and the main character heir-apparent to a magical dynasty, but doesn't have a magical bone in his body.
Tet
by Paul Allor and Paul Tucker is a Vietnam War-era hard-boiled crime and romance story.
IDW recently announced another digital-to-print deal with online publisher Lion Forge Comics (see "
IDW to Publish Lion Forge in Print
").