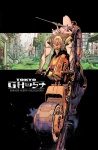 San Diego Comic-Con News:
Image Comics announced a dozen new titles at their Image Expo event at San Diego Comic-Con. The dozen titles announced include new series by Rick Remender, Joe Casey, Jeff Lemire and Warren Ellis.
Rick Remender (
Black Science, Deadly Class, Low
) will write
Tokyo Ghosts
, with art by Sean Murphy (
The Wake, Punk Rock Jesus
) and Matt Hollingsworth (
Hawkeye, The Wake
). The series, planned for Summer 2015 release, will play with 80s action movie tropes set in New Los Angeles 2189.
Click any image for larger view.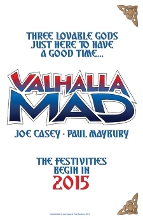 Joe Casey will write
Valhalla Mad
, with artist Paul Maybury. The story will focus on Gods coming to Earth to blow off steam, but returning to a world that's different that they're used to. The release is scheduled for early 2015.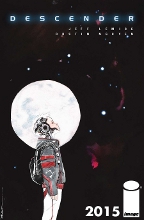 Jeff Lemire (
Sweet Tooth, Trillium
) will team with Dustin Nguyen(
Batman, American Vampire
) on
Descender
, a story about a boy robot on the run in a world where all androids have been outlawed. The ongoing series is set for March 2015 debut.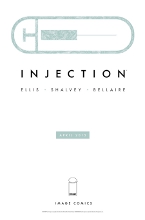 Warren Ellis will partner again with
Moon Knight
collaborators Declan Shalvey and Jordie Bellaire for
Injection
. The story is about a group of five people who find a way to make the world more interesting for themselves, but have to deal with the consequences that quickly spiral out of control. The series launches in April 2015.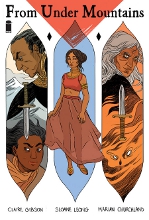 Marian Churchland (
Prophet, Beast
), Claire Gibson and Sloane Leong will collaborate on
From Under Mountains
, which is set in Brandon Graham's
8House
universe. The fantasy series will be set in a nation that's geographically and politically insulated, with the three characters struggling for power and supremacy. Release is planned for Spring 2015.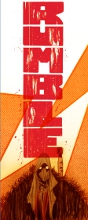 John Arcudi (
BPRD, The Creep
) and James Harren (
Conan, BPRD
) will collaborate on
Rumble
. The series is described as "Scarecrow Conan fighting in a world similar to the Louis CK TV show, but if it were directed by David Fincher." The series will launch in December.
Ray Fawkes(
Batman: Eternal, Constantine
) will write and paint
Intersect
, a
Twin Peaks
style series that is very dark, set in a city gone mad. The series will launch in November.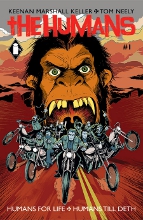 Tom Neely and Keenan Marshall Keller will collaborate on
The Humans
, with Neely scripting and Keller on art. The story involves an ape-biker gang in a 70s exploitation style environment. The series will launch in November 2014.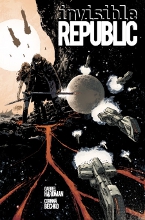 Husband and wife Gabriel Hardman (
Hulk, Planet of the Apes
) and Corinna Bechko (
Savage Hulk, Hethentown
) will collaborate on
Invisible Republic
, which the pair will co-write. The story is a human story with sci-fi elements, with a
Breaking Bad
rise and fall for one character on a war-torn planet. The series will launch in 2015. Image will also release Hardman's digital-only crime series
Kinski
in November.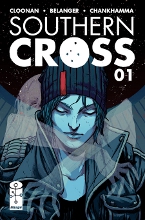 Southern Cross
will be written by Becky Cloonan (
Batman
), with art by Andy Belanger (
Kill Shakespeare, Swamp Thing
). The story is described as
Robotech
meets Stephen King marriage of horror and sci-fi
,
and is planned for winter release.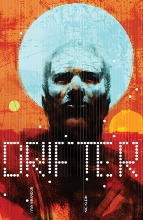 Ivan Brandon (
Wolverine, Men of War
) will write
Drifter
, with art by Nic Klein(
Captain America, Thor
). The sci-fi story will be about the down-and-dirty process of humanity attempting to flee Earth for a new home. The series will launch on November 12th.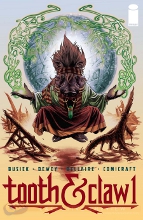 Kurt Busiek (
Marvels, Astro City
) will write
Tooth and Claw
, with art by Ben Dewey (
I was the Cat, The Tragedy Series
) and Jodie Bellaire (
Pretty Deadly
) and John Roshell of Comicraft. The series will focus on the adventures of anthropomorphic animal people in an epic fantasy series described as
Conan
meets
Game of Thrones
meets
Kamandi
. The series will debut November 5th.