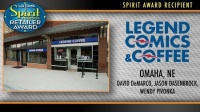 While coverage of Eisner Award winners is given to creators and artists beyond the industry (see "
2014 Eisner Award Winners
"), we at ICv2 would like to take the time to celebrate the dedicated retailers who won the 2014 Will Eisner Spirit of Comics Retailer Awards--Troy Varker and Mitchell Davies of All Star Comics of Melbourne, Australia; and David DeMarco, Jason Dasenbrock, and Wendy Pivonka of Legends Comics and Coffee of Omaha, Nebraska.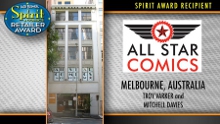 The two stores were chosen from field of 12 finalists, culled from the field of 37 nominees this year:
Acme Superstore, Longwood, Florida
All Star Comics, Melbourne, Australia
Alternate Reality Comics, Las Vegas, Nevada
Beyond Comics, Frederick, Maryland
Collector's Corner, Baltimore, Maryland
Dragon's Lair, Austin, Texas
Legend Comics & Coffee, Omaha, Nebraska
OK Comics, Leeds, UK
Packrat Comics, Hilliard, Ohio
Silver Snail Comics & Cafe, Toronto, Ontario, Canada
Time Warp Comics & Games, Boulder, Colorado
Villainous Lair Comics & Gaming, San Diego, California
Another award of retailer note was the Bob Clampett Humanitarian Award, which went to Free Comic Book Day founder and ComicsPro co-founder Joe Field.
Additional industry awards winners are listed below.
Bob Clampett Humanitarian Award
Joe Field
Bill Finger Award for Excellence in Comic Book Writing
Robert Tanigher
Bill Mantlo
Jack Mendelsohn
Russ Manning Promising Newcomer Award
Aaron Conley (Artist of
Sabertooth Swordsman
)