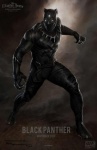 Marvel Studios announced several new film projects today, as well as filling in details for several dates it had claimed in 2013 (see "
More Marvel Movie Moves
").
Marvel Studios President Kevin Feige began the presentation by showing the "Hydra-leaked" new
Avengers
trailer (see "
First 'Avengers: Age of Ultron' Trailer
"), then went on to announce titles for several sequels, including
Captain America: Civil War,
Thor: Ragnarock
and the two part Avengers sequel:
Avengers Infinity War
.
Guardians of the Galaxy 2
has also been moved to a May 5, 2017 opening date from its originally announced July release (see "
'Guardians' Sequel Due on July 28, 2017
").
Marvel also confirmed two new projects:
Captain Marvel
for 2018, and
Black Panther
for 2017. Actor Chadwick Boseman was announced in the title role, which means actor John Boyega didn't make the cut to play T'Challa (see "
'Episode VII' Star to Be Marvel's Black Panther?
"). This concept art of Black Panther, done by Ryan Meinerding, was released as part of the presentation.
There was also a 2018 release date announced for the
Inhumans
movie (see "
Marvel Planning 'Inhumans' Movie
").
There was no confirmation of Benedict Cumberbatch in the role of Sorcerer Supreme in
Doctor Strange
(see "
Benedict Cumberbatch Is 'Doctor Strange'
"), but the movie date was confirmed for November 4, 2016.
Here is the full Marvel release schedule:
May 1, 2015 --
Avengers: Age of Ultron
July 17, 2015 --
Ant-Man
May 6, 2016 --
Captain America: Civil War
November 4, 2016 --
Doctor Strange
May 5, 2017: --
Guardians of the Galaxy 2
July 28, 2017: --
Thor: Ragnarok
November 3, 2017: --
Black Panther
May 4, 2018: --
Avengers: Infinity War Part 1
July 6, 2018: --
Captain Marvel
November 2, 2018: --
Inhumans
May 3, 2019: --
Avengers: Infinity War Part 2