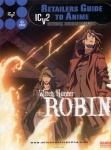 ICv2 has done an overview of the anime and manga markets at mid-year 2003 for its just-released ICv2 Retailers Guide to Anime/Manga #3, and found that sales of manga trade paperbacks are going to pass graphic novels with American-sourced content in the U.S. this year. The anime market continues to grow, but the number of releases is growing more rapidly than the market volume, leading to declining sales/release for some titles.
All of the manga publishers we talked to for our article were bullish, with sales exceeding already high expectations. Manga sales are growing most rapidly in bookstores due to increased space and a rapid increase in the number of titles, with slower growth in comic stores. A single periodical title is also having a significant impact on manga sales this year -- Shonen Jump is doing very well in a variety of channels, and at its cover price it's accounting for significant dollars.
The final outcome for anime sales in 2003 is more in doubt than the outlook for manga sales, because of the concentration of sales in the largest sales channels in a handful of properties for which the prospects are uncertain. Question marks include Yu Gi Oh, and whether it will drop off this year; Yu Yu Hakusho, and how fast it will ramp up; and the final sales on Spirited Away and the new DBZ movie, which are both expected to pass a half million copies sold.
For more analysis of these markets, see the ICv2 Retailers Guide to Anime/Manga #3 (for info on how to obtain this invaluable tool, see 'ICv2 Release ICv2 Retailers Guide to Anime/Manga #3').