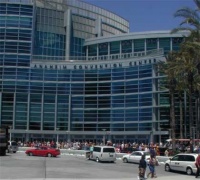 Anime Expo completed its four day run at the Anaheim Convention Center on Sunday with big crowds but no hassles due to the larger venue this year. Lines moved quickly and aisles were easy to navigate, a welcome change from last year's cramped unpleasantness at the Long Beach Convention Center (see 'Growing Pains at Anime Expo'). Attendance was not available at press time, but Tokyopop told us that their main indicator of attendance, the number of free manga samplers they gave away, was bullish, with over 5,000 distributed in the first two hours the floor was open.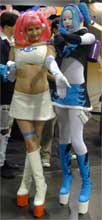 The exhibitor mood was upbeat, with business generally good for anime and its related categories (as reported in the ICv2 Retailers Guide to Anime/Manga #3, released at the show, see 'Mid-year Anime and Manga Market Update'). We didn't see any new companies making a statement at this show in the way that Gutsoon did with its Raijin launch last year (although ADV did announce its new manga line). In general, it seemed that everyone was talking about more of the same -- more anime, more manga, and more licensed goods. Cos-play was again a big feature of the show; events ran continuously and costumed fans around the convention center were repeatedly stopped to pose for pictures.
Some marketers not directly related to the category were taking advantage of the opportunity to reach a unique target market. Scion, the new Toyota brand that's launching with unconventional grass-roots marketing in California this year, targeted the anime fans with a slick magazine and audio CD in the bags each attendee received at registration. And two booths devoted to travel to Japan were dispensing information and recruiting travelers.
ICv2's coverage of all of the Anime Expo news is too big for just one day and will continue tomorrow (and potentially beyond).