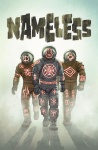 Image Comics has announced that
Nameless
#1 by Grant Morrison and Chris Burnham will debut on February 4, 2015. The first issue of this six-issue science fiction horror series sets the scene for the rest of the saga as an asteroid hurtles on a collision course towards Earth and an occult hustler known only as "Nameless" is recruited by a consortium of billionaire futurists for a desperate mission in a saga that promises to be a very Morrison-esque blend of dark fantasy, science fiction, and horror.
Morrison and Burnham, the team behind DC's
Batman Incorporated
, are back working together again with this six-issue miniseries, which features a protagonist that Morrison described to
USA Today
as a post-modern type who is a screw-up, but super-smart--like Benedict Cumberbatch's
Sherlock
in the BBC series (see "
Image Announces Major 2014 Projects
").