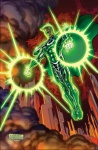 DC Comics has announced the second wave of ten two-issue miniseries that will be released in April or May of 2015 and will essentially cover the disruption involved in DC's move of its editorial staff from New York to California with some 40 two-issue series that have been created in advance and which will be outside of DC's current continuity (see "
'Convergence'
").
This series of "bizarre out of continuity meetings between disparate characters" are, according to the
Convergence
narrative, the result of Braniac assembling planets and cities from all parts of the DC multiverse in "domes" where unlikely confrontations between some of the thousands of DC Comics characters take place.
The second series of 10
Convergence
miniseries announced today on
Blastr
will street on April 15th, 2015 and will feature all sorts bizarre doings as the
Kingdom Come
characters crash the party, two iterations of Batman have to work together,
Green Arrow
encounters his son Conor Hawke, and then there's the return of
Parallax Hal Jordan
. (For the first 10 Convengence titles see "
First Ten Titles for 'Convergence'
").
Here is the second wave of 2-issue
Convergence
miniseries and the creative teams involved:
Superman: Man of Steel
will be written by Louise Simonson with art by June Brigman and Roy Richardson.
Batman: Shadow of the Bat
will be scripted by Larry Hama with art Philip Tan and Jason Paz.
Justice League International
will be penned by Ron Marz with art by Mike Manley.
Catwoman
will be written by Justin Gray with art by Ron Randall.
Supergirl: Matrix
will be scripted by Keith Giffen with art by Ramon Bachs.
Superboy
will be penned by Fabian Nicieza with art by Karl Moline and Jose Marzan Jr.
Aquaman
will be written by Tony Bedard with art by Cliff Richards.
Suicide Squad
will be scripted by Frank Tieri with art by Tom Mandrake.
Green Lantern/Parallax
will also be penned by Tony Bedard with art by Ron Wagner and Bill Reinhold.
Green Arrow
will be written by Christy Marx with art by Rags Morales and Claude St-Aubin.