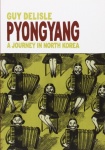 The latest casualty of Sony's
The Interview
cyberattack is apparently the planned Gore Verbinski adaptation of Guy Delisle's graphic novel
Pyongyang
,
Deadline
is reporting.
Sony Pictures Entertainment made a decision yesterday not release the James Franco/Seth Rogen comedy
The Interview
, after a massive and damaging hacking attack last month leaked thousands of confidential Sony documents and emails. The hacker group cited the film as the reason for their actions, and threatened more action if the film was released. Yesterday five of the nation's largest movies chains announced they would not screen
The Interview,
prompting Sony's decision to cancel the film. Many believe the cyber attack was orchestrated with North Korea government approval, although the U.S. government has not said so publicly.
The 2003 graphic novel (published in English in 2005 as
Pyongyang: A Journey in North Korea
by Drawn and Quarterly) detailed the Quebecois cartoonist's experiences in the capital of North Korea, where he worked for two months. The film was being developed by New Regency, with plans for Gore Verbinski to direct (see "
Gore Verbinski Does 'Pyongyang'
") and Steve Carell set to star. While the film was billed as a "paranoid thriller," the original book was more a comedic travelogue.
In a later comment to
Deadline
, Verbinski expressed his frustration with the situation. "I find it ironic that fear is eliminating the possibility to tell stories that depict our ability to overcome fear."