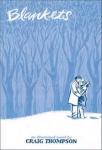 With the hordes of Hollywood heavy hitters, the flashy videogame displays, the presence of all the major anime players, and the giant booths for mega-toy companies Mattel and Hasbro it is obvious that Comic-Con International has evolved from a comic book convention into a full-fledged pop culture show. But comics still have a major presence in San Diego and, in addition to a raft of new periodical comics from Slave Labor and others, this year a surprising number of the very best graphic novels actually debuted at Comic-Con. Top Shelf, Fantagraphics, Drawn & Quarterly, Alternative Comics, NBM, Lightspeed Press and other non-mainstream publishers provided a measure of excitement that was altogether quite a bit larger than their combined sales (and booth sizes) might indicate. The books that these publishers debuted in San Diego represent some of the best output of this or any other year.
Top Shelf
In terms of both sales and buzz it would be hard to argue against the notion that Craig Thompson's Blankets was the 'hit' of this year's show. Sales of Blankets at the Top Shelf booth were strong enough to draw retailers' ire, since the title was so new that it hadn't been distributed to stores. A 592-page autobiographical account of the artist's childhood and coming of age in the snow-smothered small towns of northern Wisconsin and Michigan's Upper Pennisula, Blankets has a wonderful narrative path that jumps backwards and forward in time with an almost Eisenstein-like sense of montage and a pace that never falters through its nearly 600 pages. Top Shelf helped prime the buzz for Blankets with a limited hardcover edition prepared specifically for San Diego -- and Craig Thompson appeared to spend the entire convention signing at the Top Shelf booth, where the pyramid of the $29.95 softcover edition gradually eroded over the show's four-day span. Top Shelf, which was rescued from book distributor-induced bankruptcy by a flood of responses to an Internet call for help (see 'Publishers React To LPC Bankruptcy'), could only afford to print a first edition of around 10,000 copies of Blankets. Judging from the response Blankets received in San Diego, the first edition won't be around very long.
Top Shelf also debuted Rick Smith and Tania Menesse's Shuck Unmasked, a comic that harks back to the surreal vocabulary and mangled English of many of the early American newspaper comics, but also displays a modern sensibility and social conscience. Top Shelf was also exhibiting Sara Varon's Sweater Weather, an Alternative Comics release, since Jeff Mason couldn't attend Comic-Con due to legal commitments. A funny animal title with numerous stories that don't require dialogue, Sweater Weather features charming visuals and interesting challenges such as a 26-panel strip that features every letter of the alphabet (in order).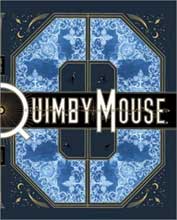 Fantagraphics
Fantagraphics' most spectacular offering was Chris Ware's oversize Quimby The Mouse hardcover ($24.95), a true masterpiece of both design and content. Ware creates a streamlined world of entropy, anomie, and despair that is unlike any realm ever conjured up in comics before. Quimby is a volume that rewards the patient and careful reader who combs through all the fine print in the faux advertisements, follows the innovative panel layouts and enjoys the brilliant blend of black-and-white and color.
Fantagraphics also premiered Dave Cooper's Ripple, a disturbingly brilliant graphic novel about a painter who deliberately hires an ugly model in order to create some 'original' erotic art that will gain him entr?e into the fine art world. Needless to say his scheme doesn't pan out the way he planned. Speaking of twists, Fantagraphics also displayed The Iron Wagon, a highly original graphic novel by the Norwegian artist Jason based on a 1908 Norwegian murder mystery with a classic surprise ending.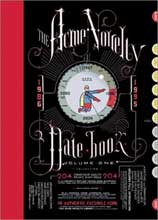 Drawn & Quarterly
The only book that could rival Quimby in design was another Chris Ware title, the Acme Novelty Datebook ($39.95), published by Drawn & Quarterly. Longer and even more elaborate than Quimby, the Acme Novelty Datebook is a stunning 'must-have' item for anyone interested in Ware's highly original blend of nostalgia and dread.
Drawn & Quarterly also debuted 5 Is The Perfect Number, a prime example of the best in contemporary European comics -- a cinematic, manga-influenced tale of family, murder, and revenge set amongst the Neopolitan Mafiosi. Though he is not well known in America, writer/artist Igort (Igor Tuveri) is one of the giants of European comics.
Space doesn't permit an examination of a host of other worthy titles debuting at Comic-Con including the Eisner Award-winning SPX Anthology, a new Luis Royo collection from NBM, a new Finder graphic novel, Dream Sequence, from Carla Speed-McNeill and Lightspeed Press, and Yukiko's Spinach, a mature title from Fanfare written and illustrated by Frederic Boilet, a Frenchman living in Japan, who combines manga-esque narrative breakdowns and photo-inspired art with the confessional, self-scrutiny of American undergrounds to create another unique graphic novel experience.

This medium is very flexible and can be bent to the artist's will in any number of interesting fashions.

While the cutting edge graphic novels debuting at San Diego may not sell as well as the latest Marvel movie tie-in or manga high school romance, their influence will reverberate through the medium for years to come.