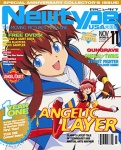 ADV's Newtype USA has nearly quadrupled its press run from 30,000 for the first issue (November 2002) to 119,000 for the November, 2003 issue (Vol. 2 #11). Although much of that growth had occurred by the summer (see 'Newtype Hits 100,000'), circulation is continuing to climb, although at a slower rate.
The biggest, slickest, most colorful English language anime magazine, Newtype USA owes much of its success to the Japanese Newtype magazine, which provides much, though certainly not all, of the US version's content. Interestingly enough, Newtype USA's success has not come at the expense of the other major English language anime-based publications, Animerica, Protoculture Addicts, and Anime Insider -- all of which appear to be flourishing.
Given its unparalleled Japanese connections, it is no surprise that Newtype USA provides an excellent view of what is happening in the Japanese market, with monthly charts covering the TV ratings and DVD sales of all the various anime series in Japan, plus in-depth interviews with the key players behind the major anime studios in Japan. The November 2003 issue for example contains major interviews with Takashi Watanabe, the editor of the Newtype Japan, and Monkey Punch, the legendary creator of Lupin III, plus articles on new anime series including Kaleido Star, Planetes, Lunar Legend Tsukihime, Chrno Crusade, Someday's Dreamers, and Gungrave.
One of the key elements that helped make Newtype Japan a success was the addition of free posters, stickers, and other paraphernalia -- a practice which has been taken to another level with Newtype USA. The November issue includes stickers featuring USA's year one covers, a Five Star Stories Poster, an exclusive four-page Street Fighter comic by UDON, and two free DVD inserts, one from ADV Films, containing the first episodes of Pretear and Saint Seiya (known in the US as Knights of the Zodiac), and one from Media Blasters, which provides samples of the company's top anime series.