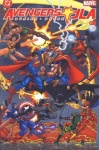 No October book came close to breaking the 200,000-copy barrier like Batman #619 did last month (see 'Hush Finale Tops Charts'), and only four of the top 25 titles posted increases compared with their sales from the previous month, while sales of 17 titles declined. Still most of the declines were modest and one of the declining titles, JLA/Avengers #2 actually topped the sales charts for October, selling 162,297 copies at a hefty $5.95 cover price--and its roughly 14% decline was less than the normal drop between the number one and number two issues of a mini-series. Amazing Spider-Man #500 had a huge increase of some 70,000 copies, which can be explained by the special nature of a milestone issue. New X-Men, Wolverine, and DC's new Teen Titans series all posted gains from September and many of the declining titles suffered only small losses from their previous total. Amazingly last month's leader Batman #619, responsible for a chart-topping total of 233,775 in September, made the list again in October at #17 by selling an additional 71,386 copies (who says it doesn't pay to reprint?).
Marvel still dominated the Top 25 with eighteen titles, while DC placed 5 on the Top 25 (with 3 in the Top 10). Dreamwave, with two titles on the list, was the lone non-premier publisher to make the Top 25. Marvel's Hulk: Gray #1 was the top debut issue in October coming in at #18. Jim Starlin's Thanos #1 opened at #22, while Dreamwave's Transformers War Within Vol. 2 #1 followed at #25.
The publisher mix on the Top 25 Graphic Novels list was quite a bit more diverse. DC Comics placed ten titles on the list followed by Marvel with eight. Dark Horse made a strong showing with 3 titles on the list including the Chronicles Of Conan, which took the top spot. Image, Tokyopop, Gemstone and Viz were all represented bringing the publisher total up to seven. Neil Gaiman's Sandman: Endless Nights, which dominated the list last month slipped to the number two spot, but still led all graphic novels in terms of dollars sold due to its $24.95 cover price.
The Top 25 comics, with our estimates of the quantities sold during October, are:
162,297 Avengers/JLA #2
148,928 Amazing Spider-Man #500
129,456 Marvel 1602 #3
119,909 Ultimate Six #2 (of 6)
109,937 Ultimate Six #3 (of 6)
108,112 Ultimate X-Men #38
107,638 Batman #620
105,647 New X-Men #147
103,569 Superman/Batman #3
103,010 New X-Men #148
99,662 Ultimate Spider-Man #47
98,747 Ultimate Spider-Man #48
92,472 Uncanny X-Men #432
82.074 Wolverine #6
77,123 Supreme Power #3
71,665 Spectacular Spider-Man #5
71,386 Batman #619
69,868 Hulk: Gray #1 (of 6)
69,082 Teen Titans #4
63,463 X-Treme X-Men #32
63,356 Hulk Gray #2 (of 6)
63,108 Thanos #1
62,947 Transformers Generation One Vol. 2 #6
62,731 X-Treme X-Men #33
62,548 Transformers War Within Vol. 2 #1
We are estimating actual sales by Diamond U.S. (primarily to North American comic stores) rather than pre-orders (as we did for the past several years) because Diamond recently changed its reporting and began basing its indexes on actual sales (see 'ICv2 Kicks Off New Top 300 Reporting'). We use those indexes and publisher sales data to estimate a sales number for Batman (the anchor title diamond uses in its calculations), and use that number and the indexes to estimate Diamond's sales on the remaining titles. We can check the accuracy of our numbers by comparing the Batman number that we calculate using multiple data points; our numbers for Batman are within 1/10 of 1% of each other, ensuring a high degree of accurcy.
Because of that change, we will not be able to do year over year comparisons until February of 2004, but in general, it's an improvement to have actual numbers to work with rather than preorders, which have significant differences from sales.