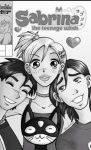 Tania del Rio, one of the winners of TokyoPop's
Rising Stars of Manga
contest, is the new writer/artist of
Sabrina the Teenage Witch
, beginning with issue #58, which will street in mid-June.
Sabrina, entering her 42nd year in comics, will have a significantly new look in her comics for the first time. Del Rio, based on her award-winning story, Lovesketch, in Rising Stars of Manga Volume II, has been given the go-ahead by the powers-that-be at Archie to draw Sabrina in her favored manga style.
TokyoPop's Rising Stars III competition will begin January 1st and end March 15th. Lindsay Cibos, the Grand-Prize Winner of the second competition (see 'TokyoPop Announces Rising Stars II Winners'), has been signed by TokyoPop to turn the winning story, Peach Fuzz, into a manga series.