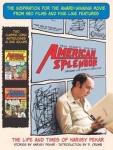 American Splendor, arguably the comic book-based film incorporating the most comic book flourishes and mannerisms in its visual style, won the best picture of the year award from the Los Angeles Film Critics Association. The wife-and-husband directing team of Sherri Springer Berman and Robert Pulcini also nabbed the award for the best screenplay for their work on American Splendor. Last Saturday the National Society of Film Critics gave Splendor the top prize in the same two categories (see 'American Splendor Top Picture Award').
While awards from these particular indie-leaning film critics won't necessarily translate into Oscars, they will give the film a cachet with the smaller, but hip audience that gravitates to independent, rather than studio-produced films. Splendor overcame a strong field of indie releases including Lost in Translation, House of Sand and Fog, and 21 Grams.
American Splendor, which grossed $6 million at the box office (almost exactly the same total as Ghost World), has actually received more critical recognition than Ghost World. The 'Best Picture' awards from these prestigious critics organizations should equate to more sales of the American Splendor DVD, which could translate into more sales for Harvey Pekar's American Splendor comic series, the inspiration for the award-winning film.
While the LA and National Society of Film Critics generally tilt toward independent productions such as American Splendor, more mainstream-oriented organizations including the Online Film Critics Society, the Kansas Film Critics Circle, the Dallas Film Critics Society, and the Las Vegas Film Critics Society have been bestowing their kudos on Peter Jackson's Lord of the Rings: The Return of the King. The big question remains: will The Return of the King become the first fantasy film to win an Oscar? Maybe, but the MPAA may also just give Peter Jackson 'Best Director' and then reward the same sort of strained seriousness (Cold Mountain) they usually celebrate.