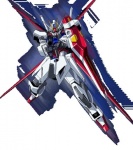 According to an announcement from Bandai America, the Cartoon Network will begin airing the latest Gundam anime series, Gundam Seed, on its weekend Action Block in April of 2004. Gundam Seed's appearance on the Cartoon Network will roughly coincide with the release of the first volume of the Gundam Seed manga from Del Rey on April 30 (see 'First Two Del Rey Manga Titles Announced'). The Gundam Seed anime series was a huge hit in Japan, where it brought the Gundam property back to the top of the TV ratings and stimulated the sales of a lot of tie-in merchandise.
Bandai America will add numerous Gundam Seed releases to its Gundam line for 2004. The new Gundam Seed offerings will include deluxe 4.5' action figures, 4.5' deluxe battle-scarred action figures with dioramas, 7.5' action figures, vehicles, typical Gundam action figure model kits, and a 12' Mega Size Gundam. Look for more information concerning the release dates of the Gundam Seed toys in ICv2's Toy Fair coverage.
With the anime running on the Cartoon Network, manga from Del Rey, DVDs from Bandai Entertainment, and a major toy line from Bandai America, Gundam Seed could become a key property for pop culture retailers in 2004.