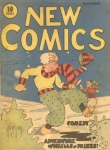 A significant collection of 1930s comics has surfaced in New York state, where they were found in the insulation of an old house. The 21 books include such rare issues as Detective Comics #2, of which less than ten are know to exist; Tip Top #1; New Comics #1; Star Ranger #1, the first western comic; and The Comics Magazine #1.
New Comics #1 is the oldest book, published in December of 1935; despite its age, it was in the best condition of the lot. New Comics was later retitled New Adventure, and eventually Adventure Comics, the long-lived DC Comics title.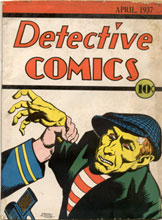 The Comics Magazine #1, from 1936, includes the first appearance of Dr. Mystic, an early Siegel and Shuster prototype for Superman.
The collection is being brokered for the owners (who wish to remain anonymous) by Nostomania, a collection management, exchange, and pricing information Website, and will be sold in a Heritage Signature Auction in June, according to Nostomania VP-Business Development Tommy Jasmin.