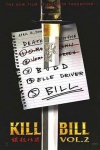 It was a good weekend at the box office for pop culture retailers, with three movies with substantial sales impact in the top ten. Kill Bill Vol. 2 won the weekend box office with an estimated $25.6 million take, up from Vol. 1's $22.1 million first weekend. The DVD release of Vol. 1 last week (see 'Kill Bill DVDs Selling Fast') expanded the visibility of the theatrical release of Vol. 2, and will undoubtedly benefit from its strong box office showing as well.
Punisher came in #2, with a $14 million gross. The giveaway of a comic to attendees (see 'Marvel To Give Away Punisher Comic') makes the connection to the Marvel comic explicit, and reminds moviegoers that there's a lot of material in print associated with the property.
Hellboy came in with a continuing strong showing at

#4 in its third week, with an estimated $5.7 million gross.

It's now over $50 million since release.