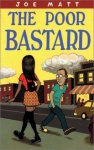 Reuters is reporting that Futurama co-creator David X. Cohen is teaming up with premium pay channel HBO to produce a cable series based on Joe Matt's Peepshow comic book series, which was collected into The Poor Bastard graphic novel published by Drawn & Quarterly. Matt, who turned from coloring superhero comics to creating his own unflinchingly honest autobiographical comics in the late 1980s, has created a body of work that is a prime example of the de-glamorized, confessional stream of American alternative comics that traces its origins back to R. Crumb and the Undergrounds of the 1960s and 1970s. Matt portrays himself as a porn-obsessed loser, an egotistical liar and cheat, who is prone to the same weaknesses that bedevil us all (though few of us see through our rationalizations as clearly as does Matt).
Home Box Office appears to be the perfect venue for The Poor Bastard. The serial form of Matt's musing should lend itself to episodic television, and HBO, which is the leading provider of 'mature' cable series (The Sopranos, Sex in the City, Six Feet Under), should be able to deal frankly and fully with the sexual subject matter. The prestige of an HBO series (should The Poor Bastard make it to the small screen) will be a boon to pop culture retailers, who may well be faced with the biggest alt comics opportunity since the movie version of Daniel Clowes' Ghost World.
The success of another alt autobiographical comic series on the silver screen, Harvey Pekar's American Splendor has also played a role in interesting HBO in The Poor Bastard. David X. Cohen plans to mix live action and animation in The Poor Bastard TV series in much the same way it was done in the American Splendor movie. Joe Matt will be an executive producer on the series and Donick Cary, who writes for the Simpsons, will work on scripts for the planned HBO series.