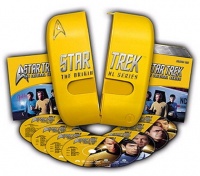 Star Trek.com has announced that Paramount Home Entertainment has finally set a release date, August 31st, for the long-awaited Star Trek: The Original Series-Season 1 DVD eight-disc boxed set.
At an estimated $100 MSRP, the collector's box set will include all 29 first season episodes in airdate order, as well as bonus features produced exclusively for this package.
Disc eight will have The Birth of a Timeless Legacy, which covers how Star Trek began, up to its premiere on NBC. Included are interviews with cast, network execs and producers, as well as new interviews with William Shatner, Leonard Nimoy and Robert Justman.
Other bonus features include Life Beyond Trek: William Shatner (with other major Trek actors to be profiled in future boxed sets), Reflections on Spock (conversations with Nimoy) and a look at the famous writers of Star Trek.
Sources report that The Cage will be on the Season 3 release, later this year.
Star Trek, always with a loyal fan base, is seeing a number of new projects this year (see 'Star Trek Animated Series on DVD,' 'TokyoPop Plans New Star Trek Manga Series' and 'Checker to Collect Star Trek Comics').