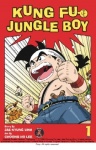 Central Park Media has announced the launch of two new manhwa series in March, both retailing for $9.99. Kung Fu Jungle Boy, by Jae Kyung Uhm and Choong Ho Lee, tells the story of a boy and his friends who must defend their home from the diabolical, dastardly, and flatulent Lord Kojak.
Angel Shop, by Sook Ji Hwang, is the story of a boy pretending to be the robot created by the girl (Yuri Angel) he pines after.
CPM's Be Beautiful yaoi line is launching Finder Series 1:

Target in the Finder by Ayano Yamane at $15.99 MSRP.