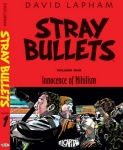 El Capitan Books, one of the most successful self-publishing operations in the history of comics, will publish David Lapham's acclaimed Stray Bullets comic books in a new series of trade paperback collections aimed at garnering new readers for the gritty crime drama in the bookstore market. The award-winning Stray Bullets, which takes its inspiration from sources as varied as the crime novels of Jim Thompson, the 'road' pictures of Hope and Crosby, and the film noir classics of Nick Ray (They Live By Night) and Joseph H. Lewis (Gun Crazy), will be published in a series of 224-page trade paperbacks that will retail for $19.95.
Four volumes are currently in production and more will appear in the future as the long form saga of Stray Bullets continues. El Capitan has previously published 152-page trade paperback editions at $14.95, and in 264-page hardcover editions at $34.95.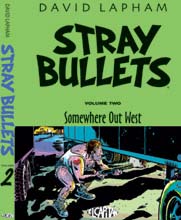 The first Stray Bullets trade will be released in February with an additional volume released every other month. Diamond Book Distributors will be distributing the Stray Bullets trades to the bookstore market, but the new Stray Bullets trades will also be available to comic book retailers through FM International, Coldcut, and Diamond Comic Distributors.