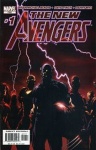 New Avengers #1 was the best-selling comic in December, topping 240,000 copies sold to comic shops by Diamond Comics Distributors according to our ICv2 estimates. This was the best debut by a new title this year, and the top one-month piece sales on a book since the advent of actual sales reporting in March 2003. Ultimates 2 #1 was a second strong debut for Marvel, with sales over 146,000 copies.
Other than the debuts, the top 25 titles once again exhibited some weakness, with sales on 16 of the top 25 titles dropping vs. November. Only five titles had sales upticks vs. the previous month. Among the titles showing growth were Identity Crisis and Green Lantern: Rebirth.
As was the case last month, DC showed considerable strength at the top of the chart, which is usually dominated by Marvel, with five of the top ten and 10 of the top 25.
The top graphic novel, Marvel's Astonishing X-Men Vol. 1, topped 10,000 copies sold to comic stores.
The top 25 comic titles during December, along with our estimates of the copies sold to comic stores by Diamond Comic Distributors, are as follow:
240,724 New Avengers #1
146,271 Ultimates 2 #1
139,572 Identity Crisis #7
134,103 Astonishing X-Men #7
119,926 Superman / Batman #15
115,657 Superman / Batman #16
106,523 Green Lantern: Rebirth #3
100,244 Superman #212
89,952 Uncanny X-Men #453
88,960 Ultimate Spider-Man #70
86,633 X-Men #165
82,840 Amazing Spider-Man #515
80,678 Wolverine #23
77,931 Ultimate Fantastic Four #14
76,658 Ultimate Nightmare #4
74,515 X-Men Fantastic Four #1
66,220 X-Men The End Book 1 #6
66,147 JLA Classified #2
64,461 Marvel Knights Spider-Man #9
63,791 JLA #109
62,585 Teen Titans #19
60,898 Batman #635
57,975 Supreme Power #14
53,292 Iron Man #2
50,691

Legion of Superheroes #1
We are estimating actual sales by Diamond U.S. (primarily to North American comic stores), using Diamond's published sales indexes and publisher sales data to estimate a sales number for Batman (the anchor title Diamond uses in its calculations), and using that number and the indexes to estimate Diamond's sales on the remaining titles. We can check the accuracy of our numbers by comparing the Batman number that we calculate using multiple data points; our numbers for Batman are within 1/10 of 1% of each other, ensuring a high degree of accuracy.