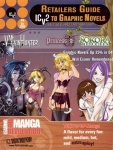 The market for graphic novels in the U.S. and Canada grew around 25% last year to over $205 million at retail, according to a new report published in the just-released ICv2 Retailers Guide to Graphic Novels #4. The report takes account of growth rates in both bookstores and comic stores in making this estimate.
Manga in bookstores continued to be the fastest-growing part of the business, with other types of material and other channels not as strong.
Bookstores and other specialty retail stores increased their share of the graphic novel business in 2004, with around $140 million of the $205-$210 million market sold through those channels (compared to $105 million in 2003). Comic stores grew more slowly, reaching $65-$70 million at retail in 2004 (vs. $60 million in 2003).
Although the graphic novel growth rate was down in 2004 (see 'Graphic Novels Up 50% in '03'), from around 50% to around 25%, the dollar increase was actually up. And a 25% growth rate is still a fantastic opportunity when measured against the flat sales in books as a whole.
For information on obtaining this guide, see 'ICv2 Releases Retailers Guide to Graphic Novels #4.'