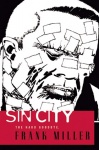 Frank Miller's Sin City Vol.1 soared from #77 to #9 in the latest BookScan list of graphic novels sold in bookstores, as anticipation for the debut of the Sin City movie on April 1st continues to build. Many comic book-based movies have failed to make much of an impact on book sales in either the bookstore or the direct market, but Sin City is one property that has real potential. It appears that window displays or in-store boutiques (or both) are in order for Sin City given the seven Sin City graphic novels and assorted merchandise items available from Dark Horse (and don't forget the cool Sin City action figures from NECA).
Dark Horse had two titles in the top ten as Fred Gallagher's Megatokyo Vol. 3 remained at number four for the second straight week. Viz's Rurouni Kenshin Vol. 12 topped the list with Tokyopop's Fruits Basket Vol. 7 (which was number one last week) in second place followed by Yu Watase's Imadoki Vol. 5 (Viz), which soared to number 3 in its second week of release. Yu-Gi-Oh! Duelist Vol. 2 (Viz), D.N. Angel Vol. 6 (Tokyopop), Hot Gimmick Vol. 8 (Viz) and Yu-Gi-Oh! Duelist Vol. 1 rounded out the top ten.
Manga continued to dominate the list accounting for 46 out of the top 50 graphic novels sold in bookstores during the week ending March 6th. Titles making a major move up the charts (the ones to watch) include: One Piece Vol. 5, Prince of Tennis Vol. 6 and Case Closed Vol. 4 from Viz, and Warcraft Vol. 1 and Kare Kano #14 from Tokyopop.