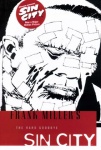 With the release of the Sin City movie due in a little over a week, the Frank Miller Sin City trade paperbacks are tearing up the charts in both the comic shop and bookstore channels. The new Chip Kidd-designed editions started moving up the bookstore charts a couple of weeks ago (see 'Sin City Soars to #9'), but they hit new heights last week, when the four volumes held the #1, #3, #6, and #7 slots on the Bookscan list of bestselling graphic novels in bookstores. In our recollection, that's an unprecedented domination of the top of the Bookscan graphic novel chart by a single property.
Comic store sales are also in high gear, with the Sin City books holding three of the top ten slots for sales to comic stores by Diamond Comic Distributors (see 'Comics Edge Up').
Publicity appearances and television advertising in support of the film are giving moviegoers (and book buyers) a chance to see some of the movie's visuals, which is all good for sales of the graphic novels and the movie.