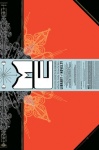 Pantheon will release The ACME Novelty Library on September 20th, a new hardcover by superstar cartoonist Chris Ware. The 9' x 15' 108 page book, which will sport an oversized belly band, is a tabloid-sized collection of single page cartoons, along with a luminescent map of the heavens, assorted cut-out activities, a history of the ACME Novelty Company, rare photos, and more. MSRP will be $27.95.
The book will be supported by a six-city author tour (Boston, Chicago, New York, Philadelphia, San Francisco, and Seattle), national advertising including the New York Times Book Review, ads in alternative weeklies, and a public relations campaign that is expected to produce national media attention including radio and print features.
Ware's sales are starting to hit the stratosphere: a Pantheon representative told us that Jimmy Corrigan has sold over 180,000 copies in its hardcover and softcover editions combined.
Craig Thompson has also signed to do a graphic novel for Pantheon. Habibi will be about his travels in Morocco; no publishing date is scheduled. This is a one book deal for now, according to Pantheon. We asked Chris Staros of Top Shelf, Thompson's current publisher, what the future held for Top Shelf's releationship with Thompson and he declined comment.
Pantheon will release Charles Burns' Black Hole on October 18th. The 352-page comic-sized hardcover will collect the ten issues of the comics published by Fantagraphics over the last ten years.
And the two-volume Persepolis series will get some new packaging for the holidays. A softcover edition of Persepolis 2 will be released. And on October 25th, a boxed set of both softcover volumes will street at the bargain price of $23.90.
Like Jimmy Corrigan, Persepolis has hit major best-seller status, with over 100,000 copies sold of Persepolis 1 in its hard and soft cover editions combined.