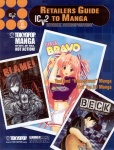 An ICv2 Release. ICv2 has announced the release of the ICv2 Retailers Guide to Anime/Manga #11, which is being distributed to the trade by Diamond Comic Distributors, Alliance Game Distributors, Koen Book Distributors, FM International, AAA Anime, TMZ Distribution, and more.
The manga side of the magazine features an article about the growing popularity of gay-themed 'yaoi' manga (male on male relationship stories written and drawn by women for a female audience) as well as a discussion about the increasing popularity of 'homegrown' manga titles such as Megatokyo, Warcraft and Princess Ai. As usual ICv2 also previews the Top Manga Launches from September to November and ranks the Top 50 Manga properties in the U.S. at midyear.
On the anime side we report on the increasing competition for shelf space for DVDs at retail -- a struggle that has led the Target chain to largely eliminate anime from its DVD mix at the same time that Best Buy is taking floor space from CDs in order to carry more TV show and anime DVDs. Also included in this issue is a survey of anime magazines -- sales drivers capable of creating profits on their own as well, a sneak peek at the best new anime releases from September to November and rankings for the top anime properties at mid-year.
This great magazine is available free to retailers, simply by requesting it form DViau@ICv2.com. It's available for a small charge to non-retailers from the ICv2 online store (click here).
For more information on the contents of this guide, see 'Anime DVDs Compete For Space.'