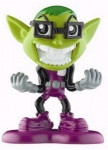 In January Bandai America is launching a new line of 1.5-inch Teen Titans Comic Game Heroes, which come packaged in sets of four characters along with a comic book page that doubles as a game sheet, a character-shaped die for game play, and one third of an interlocking piece that forms an exclusive Communicator when consumers collect all three sets in the series. Each Teen Titans Comic Game Heroes package (MSRP $5.99) also includes a game card for the 'Battle Communicator' LCD game.
Series 1, Page 1 includes the first page of the comic, a Robin-shaped die, plus Beast Boy as Nerd, Beast Boy on Moped, Raven and Baron Ryang figures. Series 1, Page 2 comes with a second comic/game sheet page and a Cyborg-shaped die, plus Trigon, White Raven, Robin as Slade Commando and Slade figures. Series 1, Page 3 features the third comic page plus a Beast Boy-shaped die, and Bear, Katarou, Martial Arts Robin and Speedy figures.
While not necessarily a full-fledged collectible miniatures game (there is no blind box packaging), these miniature figures do include a game component that may also appeal to fans of the Teen Titans CCG.