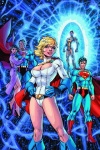 Diamond Comic Distributors sold an estimated 207,564 copies of DC's Infinite Crisis #2 (featuring two covers) to comic stores in November, only a 17% drop from the blistering sales (249,265) of the first issue. DC's All Star Superman (Grant Morrison and Frank Quitely, cover by Quitely and an incentive cover Neal Adams) came in at 170,802 copies, substantially less than the roughly 261,000 copies the first issue of All Star Batman and Robin, the Boy Wonder sold, powered by Frank Miller and Jim Lee star power.
Marvel's House of M #8 finished the series strong, up a little from the sales on #7. Decimation: House of M - The Day After sold under 100,000, at 96,734.
Sales on Supergirl #3 (shipping w/ two covers) dropped only a couple of percentage points from the sales on #2; this surprisingly strong title is hovering around 100,000.
The up/down mix was fairly typical, with 14 titles down vs. eight titles up.
The top graphic novel, The OMAC Project, sold over 10,000 copies, a feat that only the Identity Crisis hardcover of normally priced graphic novels has achieved this year. Astonishing X-Men Vol. 2 came in relatively strong at around 9,500, but it was down substantially from Vol. 1's 10,901, surprising considering the steady sales that Volume 1 has exhibited since its release.
The top 25 comic titles in November, with our estimates of the number sold to North American comic shops through Diamond Comic Distributors are:
207,564 Infinite Crisis #2
170,802 All Star Superman #1
135,462 House of M #8
126,148 New Avengers #13
99,990 Supergirl #3
97,919 X-Men: Deadly Genesis #1
96,734 Decimation: House of M - The Day After
92,348 Green Lantern #5
85,969 Wolverine #36
82,825 Uncanny X-Men #466
80,866 JLA #122
79,674 Amazing Spider-Man #526
78,405 X-Men #177
76,864 Ultimate Spider-Man #86
76,195 X-Men #178
74,766 Friendly Neighborhood Spider-Man #2
74,264 Ultimate Spider-Man #86
74,264 Ultimate X-Men #65
70,032 Ultimate Fantastic Four #25
69,739 Superman #223
69,718 Batman #647
69,558 Teen Titans #29
64,747 Marvel Knights Spider-Man #20
63,213 Young Avengers #9
62.914

Ghost Rider #3
We are estimating actual sales by Diamond U.S. (primarily to North American comic stores), using Diamond's published sales indexes and publisher sales data to estimate a sales number for Batman (the anchor title Diamond uses in its calculations), and using that number and the indexes to estimate Diamond's sales on the remaining titles. We can check the accuracy of our numbers by comparing the Batman number that we calculate using multiple data points; our numbers for Batman are within 1/10 of 1% of each other, ensuring a high degree of accuracy.