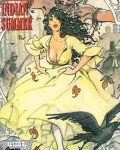 Marvel Entertainment and Panini S.p.A have announced that they have renewed and expanded their publishing agreement under which Panini retains a master license for producing translated versions of Marvel comics for Europe and selected Latin American countries. The new agreement includes a major expansion of editorial projects in which Panini will originate new content under the creative supervision of Marvel. Panini will continue to develop its Spectacular Spider-Man and Marvel Rampage children's magazines and will also originate a third magazine aimed at younger readers and develop new short Marvel comic strip stories for syndication in newspapers and periodicals throughout its licensed territories.
But the most interesting part of the new agreement for American comic book fans has to be the list of new Marvel projects that Panini is producing, which includes a Women of the X-Men graphic novel written by Chris Claremont and illustrated by the superb Italian artist Milo Manara; a Wolverine graphic novel written by Jean-David Morvan with art by Philippe Buchet, the creators of the Sillage series; a Daredevil/Captain America graphic novel written by Tito Faraci and drawn by Claudio Villa, the artist of Italy's top-selling comic book series Tex; X-Men and Young Dr. Strange mini-series produced by Red Whale, the creators of the Monster Allergy and W.I.T.C.H. comics; and a complete collection of the Stan Lee and John Romita Spider-Man daily strips and Sunday pages published from 1977-1980 and never before re-printed in their totality in book format.
While the aforementioned new Marvel projects are primarily intended for the international market, they should also find their way into the hands of hardcore fans here in the States.