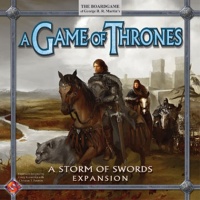 Fantasy Flight Games has an ambitious slate of board games set for 2006. In addition to the games based on Blizzard Entertainment properties (see 'Fantasy Flight Expands Blizzard Lines'), FFG is planning on releasing two new big box board games, Reins of Power, a game of geopolitical superpower diplomacy, and Tide of Iron, a game of World War II-era squad-based tactical combat. Both of these large format board games will come with lots of plastic figures, plenty of cards, dice and cardboard markets.
Other new board games include Blue Moon City, which is based on the fantastic setting of Reiner Knizia's Blue Moon card game and comes with wooden player figures, 80 cards and three large plastic dragons, and the oft-delayed Marvel Heroes: The Board Game (see 'Marvel Heroes Board Game Now Fall'), which features twenty highly detailed, pre-painted miniatures and is now scheduled for a July release.
Fantasy Flight also has a number of expansions for its popular board game line on tap including A Storm of Swords, the second expansion for A Game of Thrones, and Battles of the Third Age, the first expansion for War of the Ring. Both A Storm of Swords, which arrives in June, and Battles of the Third Age, which is scheduled for April, can function both as companion games and an expansions.
Fantasy Flight has two expansions planned for its Arkham Horror board game: Curse of the Dark Pharaoh (May) is a card expansion that introduces 166 new cards, and the Dunwich Horror Expansion (July), which features a companion game board, gate surges, eight new investigators, twenty new monster tokens, and more than 300 new cards.
FFG's popular Descent: Journeys in the Dark game also gets two full-sized expansions, Well of Darkness in June, which adds 30 new plastic miniatures, and a second as-yet-unnamed expansion in December, which will include the much-anticipated campaign rules.
Also on tap for 2006 is the first expansion for Twilight Imperium Third Edition, which is slated for November, and which will introduce four completely new races to the game, and Lord of the Rings: Battlefields (August), a new expansion for the LOTR board game by Reiner Knizia.