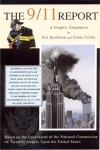 FSG imprint Hill and Wang has announced three non-fiction comic titles, to be released this fall under their new 'Novel Graphics' imprint. The name is because of the oxymoronic use of 'graphic novel' to apply to comic non-fiction, and their intent to publish all non-fiction work in comic format. Up first is The 9/11 Report: A Graphic Adaptation, which will be released on the fifth anniversary of the 9/11 attacks. The work will present the final report of the 9/11 commission in comic form.
The script of The 9/11 Report is by Sid Jacobson, who was the managing editor and editor-in-chief of Harvey Comics, the creator of Richie Rich, and an executive editor at Marvel Comics. Ernie Colon, who's drawn Green Lantern, Wonder Woman, Blackhawk, Flash, and Spider-Man for the Big Two, will provide the art. The full color, 144-page, 6' x 9' trade paperback will retail for $16.95, the hardback for $30.00.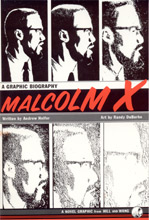 In November, Novel Graphics will release two biographies written by Andy Helfer: Malcolm X: A Graphic Biography and Ronald Reagan: A Graphic Biography. Both will be 128-page, 5-1/2' x 8-1/4' b/w hardcovers at a $16.95 MSRP. Malcolm X will feature art by Randy Duburke, a frequent contributor to the Big Books from Helfer's Paradox Press imprint at DC Comics.
The art for Ronald Reagan will be by Steve Buccellato, who's self-published Comiculture, and done numerous penciling and coloring jobs for a variety of publishers over the years.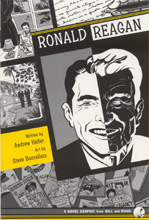 Helfer told us that he will be editing a number of additional biographies for Novel Graphics, including titles featuring Frank Sinatra and J. Edgar Hoover.