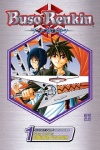 Viz Media announced a raft of new titles at Book Expo America in Washington D.C. including Buso Renkin, a new manga series from Rurouni Kenshin creator Nobuhiro Watsuki. Viz will be promoting Buso Renkin ($7.99 August), a fantasy adventure manga with alchemical overtones that has sold over three million copies in Japan, with a Watsuki appearance at San Diego Comic-Con.
Viz also announced Train_Man, the otaku phenomenon that spawned a blockbuster movie and a hit TV series in Japan. Train_Man ($9.99 October) is the heartwarming manga adaptation of a hopeless geek's pursuit of a beautiful woman that began as a real-life thread on a Japanese Internet forum and became a nationwide phenomenon.
Viz is also debuting a number of other manga series including The Law of Ueki ($9.99 August), a unique story by Tsubasa Fukuchi with an environmentally aware subplot that has inspired a popular anime series, which Geneon is releasing in the U.S. this summer; O-Parts Hunter ($9.99 December), a highly anticipated series by Seishi Kishimoto; and the politically aware 1 World Manga Vol. #4: Child Soldiers: Of Boys and Men ($4,99).
Other new titles announced by Viz at the BEA show included Anime Profiles volumes (MSRP $14.99) for Naruto (July) and Full Metal Alchemist (November), two of the most popular anime series in the U.S market.
Viz will also publish Princess Mononoke Film Comics beginning in September ($9.99).
In November Viz is releasing two novels-Naruto: Innocent Heart, Demonic Blood, a novelization of the first portion of the Naruto saga that is a surefire hit; and Be With You ($17.99), a translation of Takuji Ichikawa's heartbreaking story of the triumph of love over death, which inspired a top-rated TV series, a hit movie and a best-selling manga.
Warner Bros. acquired the remake rights to Be With You last summer, according to Variety, with Jennifer Garner starring and producing under her own production company.