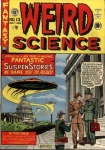 EC Crypt and Gemstone Publishing have announced the publication of the first volume in the EC Archives series, Weird Science Vol. #1, which will ship in October. The 212-page hardcover collects the first six issues of the legendary science fiction comic book series and reprints them in full color for a suggested retail price of $49.95. The EC Archives editions will present the original EC stories with all new colors based on the originals, but utilizing new methods of shading and texture to enhance and improve each story's impact. The EC Archives will be shot directly from the original EC art and the publisher promises, 'the reproduction of these volumes will be the best ever presented.'
In terms of their influence on American popular culture the EC comics are rivaled only by the initial superhero creations of the 1930s, so it is only fitting that Weird Science Vol. #1 features a nostalgic foreword by Star Wars creator George Lucas, plus great stories by Al Feldstein, William Gaines and others, illustrated by legendary artists such as Wally Wood, Harvey Kurtzman, Joe Orlando, Jack Kamen, and Feldstein.
In addition to the stories, each of the EC Archives volumes will also include all of the original EC advertisements, editorial pieces, and even the letters pages in order provide readers with the full EC experience.
Steven Spielberg will provide the foreword for the second EC Archives volume, Shock SuspenStories Vol. #1, which is due out in November.
Future volumes will include Tales From the Crypt Vol. #1 in December and Two-Fisted Tales Vol. #1 in January, with additional volumes set to follow throughout 2007.