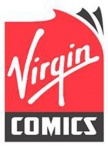 Virgin Comics has announced the October release of Seven Brothers, its first Director's Cut comic book series. Virgin's Director's Cut series pairs iconic filmmakers with top comic creators, in this case the legendary John Woo (A Better Tomorrow, Hard-Boiled) with comic scribe Garth Ennis (Preacher, Ghost Rider). Yoshitaka Amano (Vampire Hunter D) is providing the cover art for the Seven Brothers series with Greg Horn chipping in with a variant cover for the first issue.
As Woo explains it, 'Garth has taken a seed of an idea I had about a famous Chinese folktale to a whole new level that creates a modern, global story.'
Woo's long time producing partner Terrence Chung sees the comic as just the first stage in the development of a multi-media property. 'We see creating Seven Brothers as a comic book first,' he said, 'which is in turn the perfect springboard to take this title into film and games.'
Virgin Comics, which launched earlier this year (see 'Virgin Comics'), has an Asian focus and worldwide potential.