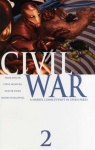 Sales of Marvel's Civil War mini-series dropped less than 3% from issue #1 to #2, falling from 260,804 to 253,856 as periodical comics continued to lead the market. In June a record 18 titles sold over one hundred thousand copies -- a sterling performance that was masked by the fact that June 2006 comic sales were only 2% over those in June 2005 and nearly 10% below May 2006.
Ten of the top 25 titles gained in circulation, while eight declined. Six new #1s (and a new #2) made the top 25 and helped drive sales. The 80-page sampler DCU Brave New World #1, which had a cover price of just $1, came in second with estimated sales of 140,844, and the first issue of the new Wonder Woman series was fourth, while Marvel's Civil War: Front Line #1 in the sixth spot and DC's The Flash: Fastest Man Alive #1 at #7 also made the top ten. Neil Gaiman's reworking of Jack Kirby's Eternals was #17. Marvel had 14 of the top 25, while DC managed eleven.
Marvel recaptured both the dollars and unit market share lead that it had relinquished to DC in May, thanks to a strong performance in periodicals -- DC dominated the graphic novel list taking the top eight spots with Power Girl nosing out Supergirl: Power to become the number one title for the month.
For the first time DC's manga imprint CMX provided some top ten help on the graphic novel list with Fred Gallagher's Megatokyo Vol. 4 taking the sixth spot. Robert Kirkman's Invincible Vol. #6 grabbed the ninth slot for Image, while the Essential Fantastic Four Vol. 5 rounded out the top ten. Viz's Naruto Vol. 10, which has dominated bookstore graphic novel sales, came in at #fifteen, and Tokyopop's Kingdom Come Vol. 4 was twenty-first.
The top 25 comics in June, with our estimates of the number sold to North American comic stores by Diamond Comic Distributors, are:
253,856 Civil War #2 (of 7)
140,844 DCU Brave New World #1
134,278 New Avengers #21
132,580 Wonder Woman #1
125,600 New Avengers #20
122,057 Civil War: Front Line #1
120,404 The Flash: Fastest Man Alive #1
119,991 Astonishing X-Men #15
116,058 Wolverine: Origins #3
112,982 Amazing Spider-Man #533
111,895 52: Week #5
111,420 All Star Superman #4
110,188 52: Week #7
110,188 Justice #6 (of 12)
110,028 52: Week #6
105,107 52: Week #8
103,217 Eternals #1
102,742 Civil War: Front Line #2
97,807 Wolverine #43
96,751 Ultimates 2 #11
95,717 Superman/Batman #27
78,147 Fantastic Four #538
78,140 Uncanny X-Men #474
77,918 X-Men #187
76,686 Green Lantern Corps #1
We are estimating actual sales by Diamond U.S. (primarily to North American comic stores), using Diamond's published sales indexes and publisher sales data to estimate a sales number for Batman (the anchor title Diamond uses in its calculations), and using that number and the indexes to estimate Diamond's sales on the remaining titles. We can check the accuracy of our numbers by comparing the Batman number that we calculate using multiple data points; our numbers for Batman are within 1/10 of 1% of each other, ensuring a high degree of accuracy.
For our estimates of actual orders to Diamond U.S. from comic specialty stores on comic books scheduled to ship during June, see 'Top 300 Comics Actual--June 2006.'