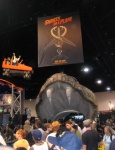 The high temperature of 99 degrees at the San Diego airport on Saturday broke the old record by 10 degrees. It wasn't that hot at the Convention Center, where the San Diego Comic-Con was held, but the people waiting in line for up to three hours to buy tickets were still sweltering in the heat. Very heavy traffic and scarce parking also contributed to congested, hot conditions outside.
Faces visibly brightened when fans entered the Convention Center, not only because of the cooler temperatures, but also because of the bustle of commerce, the presence of celebrity, the outrageous costumes, and the incredible variety of pop culture on the floor.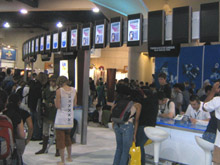 Attendance this year was definitely up, with most exhibitors and regular attendees agreeing that floor traffic on Wednesday through Friday was heavier than last year (see 'San Diego Bursting at the Seams').
We talked to retailers in the Japanese toy, graphic novel, and game categories that all were experiencing record sales in widely varied areas of the floor.
Attendance last year was 104,000 -- 94,000 paid and 10,000 volunteers, exhibitors, and pros. Although Saturday attendance could not go up in 2006 (ticket sales were suspended both years on Saturday to prevent the building from going over capacity), more people could and did attend on the other days, making the whisper number of 120,000 unique attendees seem well within reach.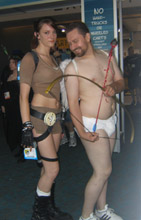 Among exhibitors, anime was down again this year, with Bandai joining ADV and Geneon as non-exhibiting producers. Designer vinyl toys continued to expand, as did television networks and movie studios.
The variety is what we enjoy the most, with the designer vinyl, movie and TV exhibitors, videogames, and mainstream toy companies joining retailers selling Japanese rock magazines, Goth-wear, Japanese and Hong Kong live action DVDs, and the more traditional comics, original art, toys, and other collectibles.
The U.S. Postal Service was in the house this year, selling its new DC superhero stamps. The line to buy the plate blocks canceled on Thursday, the first day the stamps were available, reportedly stretched around the building.
The retailer programming organized by ComicsPro (see 'ComicsPro SDCC Retailer Events') was well attended, with upwards of 200 people at some sessions.
The San Diego Comic-Con organizers, who do such a great job of hosting this unique show, have a range of less than attractive options for further growth. They can move some events out of the building, whether to an adjacent tent or to buildings further away, with the fragmentation that could result. They can add another day to a show that's already pretty long for the exhibitors. Or they could relocate it out of San Diego, with Los Angeles or Las Vegas the closest cities with adequate convention center space. That last option is probably the least likely, but faced with a limited space and a seemingly unlimited capacity to grow attendance, some tough choices are going to have to be made in coming years.