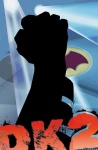 For the first time in recent memory, initial U.S. orders on a comic title by pop culture stores have topped $1 million retail. Initial orders to Diamond on Dark Knight Strikes Again #1, the first issue of the sequel series to Frank Miller's groundbreaking 1986 series, were over 174,000 copies (see 'Top 300 Comics -- December'). At the book's top-end $7.95 price point, this means that over $1.3 million will be generated at retail. This is over twice the dollars of the second highest book, Marvel's Origin #5, which sold nearly as many copies (165,000), but at a much lower price point. Although we don't have the hard data to back it up, we believe this to be the highest dollar total for a new comic issue for at least five years. The orders on the top books also helped drive December dollar orders up substantially over the year ago period (see 'December Comic Orders Up 7% Over Last Year').
Orders on Origin continued to climb, coming in up 6% vs. #4. Exhibiting an extremely unusual trend, orders on Origin have grown every month since the first issue, indicating that retailers continued to underestimate demand month after month. One reason for this may be Marvel's no-overprint/no-reprint policy. Since retailers were unable to discover how many they could have sold by reordering in advance or after release, and exhibiting a reluctance to increase their orders too much after selling out on the earlier issues, they are still finding out how many consumers really want to buy of this title. Five out of the other seven repeating books in the top ten (four X-Men books and Green Arrow) were down; only orders on the two Spider-Man books went up.
Marvel's domination of the top of the chart slipped a bit this month, with eight out of the top ten and nineteen out of the top twenty-five. DC picked up the slots Marvel lost. As usual, a Dark Horse manga title topped the graphic novel list -- Lone Wolf and Cub was #1 (see 'Top 25 Graphic Novels -- December').
The estimated North American advance orders to Diamond for the top 25 comic titles for November are as follow:
174,339 Dark Knight Strikes Again #1
165,831 Origin #5
112,227 New X-Men #121
105,646 Uncanny X-Men #401
100,442 Ultimate X-Men #13
88,666 Amazing Spider-Man #38
80,875 Ultimate Spider-Man #16
80,818 X-Treme X-Men #8
78,789 Green Arrow #11
76,116 Uncanny X-Men 2001
72,909 Wolverine #171
67,491 JLA #61
59,606 Punisher #7
58,812 X-Treme X-Men 2001
57,715 Avengers #49
54,937 X-Treme X-Men Savage Land #4
52,471 Fantastic Four #50
51,960 Ultimate Marvel Team-up #11
49,733 Daredevil #28
49,373 Peter Parker Spider-Man #38
49,049 Elektra #6
47,554 X-Force #123
45,161 Spawn #117
The quantities in this chart are ICv2 estimates of initial raw orders to Diamond North America on titles scheduled for shipment in December 2001.
Marvel, DC, Dark Horse and Image distribute 100% of their comic store orders through Diamond. Some other publishers distribute directly to stores or through other distributors and as a result this analysis may underestimate their sales.
Marvel, DC, Dark Horse, and Image distribute some of their titles through channels other than comic specialty stores, e.g., newsstands and bookstores. These quantity estimates do not reflect distribution through those channels.
The quantities above do not include advance reorders, late orders, or reorders.
Most of the titles on this chart are also distributed to Europe by Diamond UK, which can account for significant sales for the publisher, ranging from 3-20% of the US numbers. Sales by Diamond UK are not included in the numbers above.
Even given the above, however, it is probably safe to say that these quantities reflect 80% or more of the total North American sales by the publisher on most periodical comics.
One other factor to consider is that sales through Diamond and other comic distributors are non-returnable to retailers. That means that there is a considerable unknown percentage of books unsold at the retailer level. If that percentage is 10-20% of sales (a reasonable assumption), the estimates above may be quite close to actual sales to consumers.
For an overview and analysis of last month's numbers, see 'November Comic Orders Continue Strong Trend.'
For last month's top comic list, see 'Top 300 Comics -- November.'
For last month's graphic novel list, see 'Top 25 Graphic Novels -- November.'