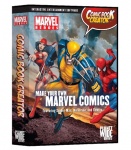 Planetwide Games introduced its Comic Book Creator: Make Your Own Comics self-publishing software last November and is launching licensed versions.
CBC allows fans to create their own comic books by dragging and dropping their own digital images or supplied licensed images onto any of 500 comic book page templates, embellishing with captions and word-balloons, and printing out or saving into a PDF. The software is user-friendly, and fans can share finished works on the company's Website.
The Nacho Libre CD-ROM was released in June, and the first of several Marvel products (Marvel Heroes, featuring style guide art for Spider-Man, Wolverine, Elektra and assorted villains) is due out in mid-September.
Speed Racer will be released in late October.
Other future CBC releases include Marvel versions based on Spidey & Friends and Ghost Rider, a Virgin Comics version and a National Geographic version.
Mass (Wal-Mart and Target), specialty retailer (EB, GameStop), and direct market distribution is planned.
Sony Online Entertainment (SOE) will be selling a downloadable version of the CBC software based on Everquest to its online game subscribers.
The software is priced between $19.99 and $29.99 MSRP, depending on the version. The download price is higher--$35 for the digital version from SOE. 'Booster pack' downloads of images for some properties will be sold from Planetwide's Website for between $2.99 and $9.99.