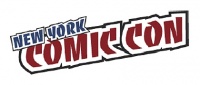 A Paid Advertisement. The list of guest appearances at New York Comic Con is building rapidly as the countdown to the next show heats up. The convention has already announced that legendary comic book writer and creator Stan Lee will be a Guest of Honor and now it adds Jeff Smith who will also be a Guest of Honor at New York Comic Con. Other popular personalities who will be making appearances include Alison Bechdel and Frank Cho, among several others. 'We're just beginning the process of confirming our guests for the 2007 show,' notes Greg Topalian, the Event Director. 'We are looking forward to adding lots more names in the near future and I'm confident that we'll have events and appearances for everyone to enjoy.'
New York Comic Con will take place in New York City at the Jacob K. Javits Center, February 23rd -- 25th.
The list of newly added guests at NYCC includes:
Alison Bechdel: A bright new star in the graphic novel category, Alison has been a careful archivist of her own life and kept a journal since she was ten. In 1983 she began drawing Dykes to Watch Out For which has been described by Ms. as 'one of the preeminent oeuvres in the comic genre, period.' The strip is syndicated in fifty newspapers, translated into several languages, and collected in a book series with a quarter million copies in print. Bechdel's most recent book, Fun Home (Houghton Mifflin), which is her first memoir, is a national bestseller and was one of the most highly praised books of the year, including two stellar reviews in The New York Times. Alison will be at NYCC to further promote Fun Home.
Frank Brunner: Frank's work reflects a unique sensibility, combining heroic design, and a lush eroticism with a touch of whimsy. After a long career for may top animation studios, this seminal illustrator is making a rare New York appearance in support of his upcoming Vanguard hardcover retrospective, Mythos: Fantasy Art Realms of Frank Brunner.
Rich Buckler: Along with being one of only a small handful of comics artists to be featured on a US postage stamp, Rich Buckler has been drawing and writing comics for the past 35 years, and during his career has illustrated nearly every major character for Marvel and D.C. Comics. Buckler's notable comic book runs include Fantastic Four, Avengers, Sub-Mariner, Spectacular Spider-Man, Deathlok, X-Men, New Mutants, X Factor, Teen Titans, and Superman vs. Shazam.
Frank Cho: Frank Cho was born in Seoul, South Korea, and at the age of six he and his family came to the United States. Cho never had any formal training in art, and taught himself to draw and write by reading art books and comics. In his notable career, Cho has won many awards, including: the prestigious National Cartoonist Society's Awards for Best Comic Book and Book Illustration, the Eagle Award, the Charles M. Schulz Award for Excellence in Cartooning, Scripps-Howard Award for Best College Cartoonist, College Media Association for Cartooning, and Germany's highest award, Max & Moritz Medal, for Best International Comic Strip. He was also nominated for the coveted Harvey and Eisner Awards.
Bill Sienkiewicz: Bill is one of the greatest innovators in the history of sequential art. He has won every major comics industry award, received two Emmy nominations, worked on many successful films, has exhibited all over the world, and has had a major impact on the field of illustration. Among his many credits, he produced the acclaimed painted biography, Voodoo Child: The Illustrated Legend of Jimi Hendrix (Viking Penguin) and, more recently, he teamed with Neil Gaiman for Sandman: Endless Nights.
Jeff Smith: Born and raised in the American mid-west, Jeff Smith learned about cartooning from comic strips, comic books, and watching animation on TV. In 1991, he launched a company called Cartoon Books to publish his comic book Bone, a comedy/adventure about three lost cousins from Boneville. Against all odds, the small company flourished, building a reputation for quality stories and artwork. In 2005 Scholastic entered the graphic novel market by launching a new imprint, Graphix, with a full color version of Bone: Out From Boneville, bringing the underground comic to an entirely new audience and a new generation. In 2007, DC Comics will release Smith's first non-creator owned work, SHAZAM! Monster Society of Evil, a four-part mini-series recreating a classic serial from comic's Golden Age. Between his many projects, Smith spends much of his time on the international guest circuit promoting comics and the art of graphic novels.
J. David Spurlock: Known to art directors around the world as the Prince of Pop Art for his 20+ years of commercial illustration work, Spurlock has, as an artist, art director or editor, collaborated with some of the most well known and respected artists, designers, illustrators and creators. Spurlock is a behind-the-scenes mover and shaker in the comics world and represents top talents. As well as serving as President of the Dallas Society of Illustrators and Publisher of Vanguard Productions, Spurlock's career includes work for Disney, Sony, Dark Horse Comics, Beckett Publications and MTV, in addition to teaching at NYC's School of Visual Arts.
Jhonen Vasquez: A San Jose, CA native, Vasquez is best known in the comic book industry as the creator of Johnny the Homicidal Maniac. Originally a comic strip for his school newspaper, Slave Labor Graphics (SLG) began publishing Johnny the Homicidal Maniac later on, and the series is now celebrating its 10th anniversary. All of Vasquez's comic book work sells well, reprints of which often outsell the initial releases of most other independent comic book series. Other titles by Vasquez include Squee, I Feel Sick and Filler Bunny. Beyond the world of comics, Vasquez was also the executive producer and writer of Invader Zim, an animated series on Nickelodeon that was watched by millions of teens and led to a wildly successful merchandise line. Currently Vasquez is directing a music video for Mindless Self Indulgence and working on several other projects both in and out of the comic book industry.
The complete exhibitor list for 2007 can be found online at:
http://www.nycomiccon.com/pressreleases
Tickets for New York Comic Con are limited and are on sale now! Tickets as well as show updates are also available at:
Exhibitor sales inquiries for New York Comic-Con should be directed to Larry Settembrini at (203) 840-5321 or lsettembrini@nycomiccon.com. Press inquiries should be directed to: Roger Bilheimer at (203) 966-0792 or bilheim@aol.com.
New York Comic Con is managed by Reed Exhibitions (RX), a division of Reed Elsevier plc.

Reed Exhibitions, the world's largest organizer of business-to-business events.

Each year Reed events assemble over 90,000 suppliers and over 5.5 million buyers from around the world.

Today, over 460 Reed events are held in 38 countries throughout the Americas, Europe, the Middle East, Africa and Asia/Pacific, and are organized by 33 fully staffed offices.

Reed's portfolio of events serves 52 industries worldwide.

BookExpo America is one of many Reed Elsevier properties within the Reed Global Book Publishing Network, whose trade events include the Asia International Book Fair, London International Book Fair, Salon du Livre:

Paris Book Fair, Tokyo International Book Fair and BookExpo Canada, and whose Reed Business Information (RBI) properties include Publishers Weekly, Variety Magazine, Playthings, Video Business, Library Journal, and School Library Journal.

As a member of the Reed Elsevier plc group, a world-leading business and information provider, Reed offers integrated market access programs covering exhibitions, trade publications, direct marketing and the Internet over a database of more than 9 million.

New York Comic Con is not affiliated with any other comic convention event, including any other event having Comic-Con in its name.