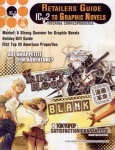 The summer of 2006 was not an especially great season for booksellers with sales for Borders down 3.9% for the most recent quarter and comparable store sales for Barnes & Noble down 2.6% for the same period, but in the just published Retailers Guide to Graphic Novels #9, ICv2 reports that sales of graphic novels continued to grow in both the bookstore and direct markets during the past summer season.
Manga sales were very strong, though increasingly concentrated in the top properties. Naruto Vol. 11 reached the highest spot ever on the USA Today's booklist (which includes all releases) and all eleven volumes of Naruto remained solidly in the top twenty of the BookScan list of graphic novels sold in bookstores. Naruto's dominance is such that according to some industry observers the 11-volume series has been responsible for almost 10% of all manga sales in North America so far in 2006, but other top manga properties including Fruits Basket, Fullmetal Alchemist, Tsubasa, Kingdom Hearts, Negima, Loveless, Bleach, and Death Note also fared very well this past summer.
But it appears that on a percentage basis, sales of non-manga graphic novels have grown at an even faster pace than manga during the past three months. Marvel's graphic novel adaptation of the Halo videogame was a hit in both the bookstores and the direct market, as was Alison Bechdel's autobiographical Fun Home, which benefited from great reviews in the New York Times and other mainstream press outlets. Alan Moore & Dave Lloyd's V for Vendetta got a second wind from the release of the V for Vendetta movie on DVD in early August, and Moore's Watchmen just continues to sell like the ultimate graphic novel classic it is.
Other more mainstream superhero titles like Marvel's House of M, Astonishing X-Men, and New Avengers, DC's Superman/Batman, Batman Hush, and Dark Knight Returns are also all starting to do solid business in the bookstore market, sometimes long after their heyday in comic shops is past. For the first time in this issue of the Guide, ICv2 ranks the 'Top 20 American Genre Comic Properties' based on direct market and bookstore sales.
Superhero titles are not the only American graphic novels that are starting to take off in the bookstore market. Dark Horse's Serenity and Penny Arcade have performed very well and genre titles such as Image's Walking Dead and Marvel's Marvel Zombies (both written by Robert Kirkman) are gaining momentum as are science fiction series like Brian K. Vaughan's Y: The Last Man (Vaughan is the subject of the 'Writer's Spotlight' section of the new Guide).
For more information on obtaining this useful publication, which is free to retailers and also identifies the best prospects from the hordes of graphic novel releases set for October, November and December, see 'ICv2 Releases Retailers Guide to Graphic Novels #9.'